5-Star Rated Back Pain Relief In Birmingham
Providing Hope, Health & Relief Since 1987
At Birmingham Chiropractic Clinic, we understand how discouraging it can be to try to go about your everyday tasks with chronic back pain.
We're here to alleviate your back pain for good and get you back to doing the things you love.
We employ natural, noninvasive chiropractic techniques to treat this chronic ailment and our patients experience lasting results.
Don't let back pain keep you sidelined – Call 0121 449 7766 or book an appointment online now!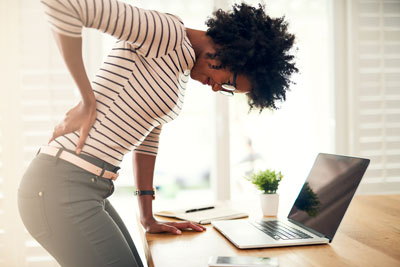 ---
Personalized Back Pain Treatment
We provide advanced back pain relief utilizing "state of the art" chiropractic techniques.
Never in the history of chiropractic have we been able to provide the level of help and expertise that now exists. These newer correction methods are even safer, more comfortable and more effective than ever before.
Experience fast, natural pain relief.
---
Testimonials
See What People Have To Say
Very impressed by how quickly the cause of the problem was identified by William and the exercises suggested to help the problem. I wish I had thought of this years ago!

- Llinos L.

I was very pleased that I was treated at my first appointment. My diagnosis was on point and I hope to book a couple more appointments to see if my ailments improve.

- Vimai L.

I felt very relaxed, an over all good experience.

- Carol D.

I found my practitioner very helpful and because of his quick and accurate diagnosis I was able to get the correct medical treatment so I would like to thank you for your helpfulness and sound advice.

- Nicholas O.

Didn't think it would work but wow miracle workers definitely will recommended!

- Sandra C.

Was recommended by friends and family. I have been very pleased with the service and treatment received. My back is the best it's been in a long time.

- Mark B.

The chiropractor I saw was a very helpful and understanding guy. I was seen promptly, which was a relief as I was visiting on my lunch break!  Will be visiting again.

- Ishad A.

Very happy with the treatment.

- Darshan B.

Great experience with a knowledgable and understanding consultant.

- Harpal K.

For my first visit I was very impressed with the detailed consultation, the level of knowledge seems extensive; so far so good.

- Nigel S.

Great overall experience.

-Nicholas T.

Really pleased with the professionalism and friendly staff at the practice. Will be making another appointment soon. Keep up the good work.

-Anne W.

Great first time experience and feel better after my first session!

- Satinder N.

So glad to finally have some clarity as to what is wrong with me, no being passed from pillar to post – quick, efficient, trustworthy and knowledgeable. Very happy, will definitely be back.

- Marc L.

Excellent consultation and treatment. All findings and treatment clearly and thoroughly explained. Looking forward to the next session.

- Andrew F.

Left wondering why I waited 7 months of pain before coming to see you. Very informative and quick diagnosis!

- John I.

Felt better when I heard an explanation of my pain, very well explained and thorough – great technical skills coupled with excellent service (including receptionist).

- Narinder G.

Excellent experience and very useful information.

- Yessar S.

I felt that I was in good hands, it was very interesting to learn how many things affect your back. The receptionist was lovely, I was seen on time, and shown exactly what was happening. From the first visit, my pain was not gone but it shifted and came down a level so was not as intense. Highly recommended!!

- Angie B.

An absolutely lovely chap who treated me, an intelligent and professional young man! Lovely to be on the road to recovery, thank you so much it's been delightful being treated today. Will certainly recommend to others.

- Sarwat R.

Good friendly service and sound advice.

- Marlene C.

I found my first session to be amazing! Gurj helped to identify my problem by carrying out a series of tests (none of which hurt) and explained at every point exactly. I would absolutely recommend his services! I was made to feel welcome and not at all rushed.

- Laura P.

Marek has helped me so much with my twisted pelvis and the other stresses pregnancy has put on my body. He has definitely helped make my pregnancy experience improve and I would recommend his services to anyone.

- Christina S.

Thank you for providing good health service.

- Manijeh G.

First visit to the clinic, it was very welcoming and professional. My mum has been suffering from persistent pain for 2 years and the feedback was very educational from the practitioner.

-Manjit K.

Really felt at ease as soon as I entered the room. He listened to what I had to say and fully explained what was going to happen and why, and what we were going to look into on the next visit.

- Rebecca P.

Excellent informative visit. Thank you!

- Imyad M.

Very positive chiropractor and very thorough and helpful.

- Naila T.

Left pain free! Fantastic. Very thorough examination.

- Leo A.

I was a regular here a few years ago and no issues for a very long time. I came back now and once again like always treated with amazing care and most importantly excellent treatment.

- Tariq M.

Amazing service, fast and knowledgeable.

- Gabrielle K.

Felt at ease immediately, very happy with how I was dealt with. Very friendly and helpful staff.

- Karina J.

The family feel of the business is what I got when I walked in. Warm welcome and comfortable clinic.

- Ashley V.

This place don't mess about! Awesome! Precise! Concise! Empathetic! And Im quite a fussy person ! I find faults wherever i go ! As i believe you ( we ) should get the best service for our business! And I could not fault them

- Michael S.

I've found the staff and treatment second to none, would recommend the practise in a heartbeat.

- Leoni G.

It was an excellent session Gurjit was very supportive of my daughters needs and explained things to her as he went along. He was calm and patient with her. Great first experience – very thorough.

- Imaan B.

Local, friendly, approachable and effective. Have total confidence in the care that I am being given and have recommended the practice to many others, all of whom have been treated competently and have been impressed. Exceed all expectations. Thank you.


- Carol B.

I found my experience really comfortable, prompt and professional. I felt quite comfortable speaking to the Doctor, who was really helpful and informative. Overall it was a great experience.

- Ibrar S.

Came out feeling very satisfied and learned a lot of how not just the body works but also how our mental state of mind works too; excellent.

- Daniel W.

Welcoming, friendly and Amazing!!

- Beth R.

I'm amazed at how quickly I got answers for my problem and how quickly I was treated and the pain relief two hours after treatment. Definitely recommend the place.

- Zainab H.

I was very enlightened from my visit. Very friendly and informative assessment. Thought I was stuck with pain forever. I now have faith that it will improve or even be cured.

- May B.

Excellent service and treatment from walking in the door to going out.

- Jess B.

All staff helpful and welcoming.

-Sharon H.

Very friendly and helpful, feeling very positive after my first visit.

- Suzann M.

I have been very happy with the service and the treatment i have received.

- Emily R.

Friendly, comfortable and very reassuring first visit. Very thorough examination with explanations the entire way through. Liam spoke to me and not at me, I like the holistic approach taken and the step by step process from hereon in. I look forward to my alignment and getting the old skeleton back in shape.

- Elaine E.

My consultation was excellent and the treatment I revived has been first rate I would recommend this practice to any one.


- Jason J.

Very impressed with my first visit, much more involved and thorough than I was expecting. Nice friendly, unhurried treatment.

- Robert D.

Very happy and will be recommending to family and friends

- Majid A.

Very good service received by all members of staff that I communicated with; Very helpful and polite. A comfortable, calming, safe and clean environment.

- Davina J.

A pleasant and well established practice.

- John D.

In nearly forty years of having problems this was the most thorough examination I have ever had. Thank you!

- Elizabeth B.

Great first visit, will highly recommend.

-Joanne W.

Consultation was really good and the follow up is the very next day which is great!

- Maria M.

I am very pleased with the on-going care I've received. It has made a huge difference to my well-being and has improved my mobility. I'd started to think I would always be in pain!

-Jill H.

Just a big massive thank you to all the staff. You were a great help!

- Nicholas H.

I really enjoyed my first appointment with Dr. Rousseau and feel hopeful that he will be able to help me improve my condition.

- Stella U.

I was hesitant that I was having problems with my spine which was worrying, but within a few minutes found out it wasn't. Very happy with my treatment by James. What a lovely team of people.

- Catherine H.

Prompt, courteous and professional.

- Philip R.

A friendly and approachable place, I felt really comfortable there. Everyone was very helpful.

- Jayne P.

Outstanding service, and a well-mannered team

- Shahad F.
---
Book Your Appointment Online
---
You Don't Have To Live In Pain
Call Us Today! 0121 449 7766
---
Expert, Natural Back Pain Treatment Serving Birmingham And Surrounding Areas